How long will it take to texture my ceiling?
1000 sq ft of new drywall in an area with unfinished walls and floors will take approximately 5 hours to apply ceiling texture.
How long it takes to texture ceilings in an unfinished area
An unfinished room with walls that still need to be painted (so I can staple my plastic sheets to protect the walls)
and floors that have not been installed yet (basically concrete or base flooring I can just scrape off texture and paint over spray after the ceiling is finished)
with little to no furniture or items in the area (an empty room)
will take 4 to 5 hours to spray a knockdown texture and an hour or so less for popcorn or splatter depending on ceiling height and how complicated the ceiling is (lots of bulk heads, corner bead work and pot lights etc that need to be protected with paper like in this picture of a room being prepped for knockdown below…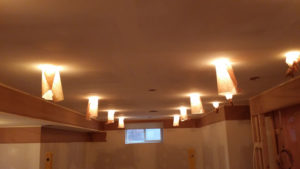 ---
How long it takes to texture ceilings in a finished and/or lived in area
The best way to renovate or finish an area is to start up and work down. Ceilings then walls and then flooring. This makes the most sense for the trades work.
In a home where the homeowner has or has hired someone to scrape the old popcorn texture off  or for what ever reason has new drywall on the ceiling with painted finished walls and finished flooring I will have to cover every inch of the walls and floors to ensure no damage occurs to the finished areas. In the pictures below I have protected the floors first and the second picture is the walls being protected with plastic before I texture the ceiling.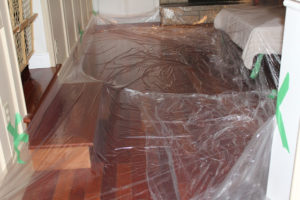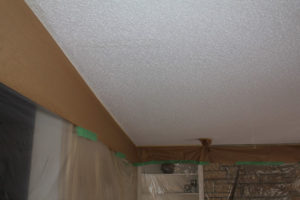 Protecting the walls by taping up the plastic and creating a solid layer of plastic on the floor by either taping or gluing the sheets together (full room bag out) adds an extra 2 hours of work approximately per 1000 sq ft.
---
knockdown texture will take one hour longer than splatter and popcorn texture per 1000 sq ft due to the time it takes the mud to set up before it can be knocked down and the detailed trowel work it takes to smooth out the ceiling (knock it down).