Do walls have to be sanded before ceiling texture is applied?
Normally the walls are sanded after the ceiling texture is applied. This way I am able to apply paper and tape in the top angle to protect the wall.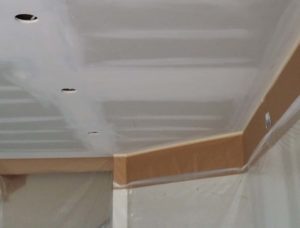 Some homeowners hire a taper to tape and mud the walls and ceilings who prefer to be finished before the ceiling texture company arrives and do not plan on returning after the texture has dried. In this case they like to sand everything, walls and ceilings before the ceiling is textured. This is not optimal.
One option, in this case, is to take a very wet cloth and soak down the angle wiping off all the sanded mud and dust. The angle would then need to dry for at least an hour before I can apply paper and tape to the once sanded angle. This would need to be done before I arrive because if I wet the sanded walls myself I would be sitting around for at least an hour wasting yours and my time.
Another option is for me to staple my plastic sheeting (poly) an inch from the ceiling and then scrape off the over sprayed texture. This is not the best option because the angle, once dry will have a rough finish and require a detailed sanding to return it to the perfect angle it once was.
I arrive on some sites with sanded wall angles and the builder says "don't worry I will dust it off with a broom or give it a quick wipe with a damp cloth."
I then put up masking paper and tape, it seems to stick, but as soon as I begin to paint with my high pressure paint sprayer, the paper is blown right off the angle and off the wall and I end up wasting paper and having to staple the paper up above the stapled plastic doubling the staples which need to be patched afterwards. A waste of time and material and creating more work in the end.